Edinburgh's new plant science network celebrated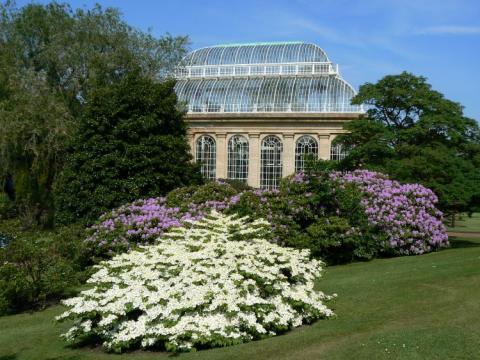 June 25th, 2014
A new network bringing together 600 Edinburgh scientists that collectively provide wide-ranging expertise and capability in food security, environmental sustainability and related policy is launched today at the Royal Botanic Garden Edinburgh.
Edinburgh Plant Science (EPS) is committed to delivering fundamental and translational research, education and outreach to ensure that new discoveries in plant sciences can bring benefits for human health, society and the environment.
The network has been established in the recognition that a diverse set of expertise is required to solve some of the most pressing challenges to our planet. EPS will become an active forum to stimulate interdisciplinary research collaborations, new training opportunities and to raise the profile of the world-leading plant and social science research ongoing in and around the Capital.  
The EPS will be formally launched by Professor Ian Graham, Head of the Department of Biology, University of York and Chair of Biochemical Genetics in the Centre for Novel Agricultural Products (CNAP), and Professor Lesley Yellowlees, CBE FRSE, Head of the College of Science and Engineering at the University of Edinburgh and President of the Royal Society of Chemistry.
Dr Karen Halliday, Director of the EPS, says, "Edinburgh has the largest concentration of plant scientists in Scotland, if not the UK, and we have a great opportunity to further raise the importance of our research to solving many of the world's problems. We are passionate about plants and want to help ensure everyone understands their importance to our planet."
During the event, which will be attended by over 100 people, speakers from the agrochemical company Syngenta, the UK Knowledge Transfer Network, Scottish Natural Heritage and Science and Advice for Scottish Agriculture (SASA) and the Institute for Innovation in the Life Sciences (Innogen) will provide a broad view of the plant sciences and its impacts. Edinburgh graduate students are also running a "two minute thesis" competition during the event to highlight the wealth of young talent in the region.
EPS partners include: University of Edinburgh (UoE), Centre for Social and Economic Research on Innovation in Genomics (Innogen), Royal Botanic Gardens Edinburgh (RBGE), Centre for Ecology and Hydrology (CEH), Science and Advice for Scottish Agriculture (SASA), Scotland's Rural College (SRUC), the Forestry Commission (FC) and Heriot-Watt University (HW).
During the event the new EPS website is also showcased www.edinburghplantscience.com and you can follow the event and EPS activity on Twitter @EdinPlantSci