Team to create a molecular toolbox to boost cyanobacterial pigment production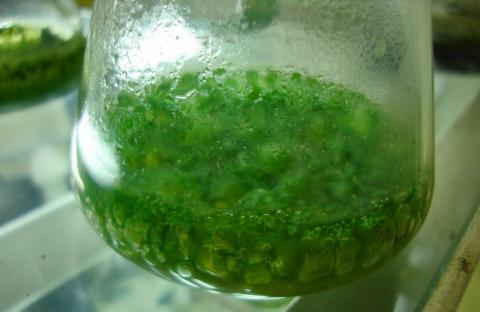 December 7th 2015
SynthSys PIs Dr Alistair McCormick and Br Baojun Wang are joining forces with Scottish SME Scottish Bioenergy to develop a toolkit to boost the production of commercially valuable pigments from cyanobacteria.
Cyanobacteria (a simple form of microalgae) are the source of many natural pigments used for a diverse range of products from food colouring to nutritional supplements and cosmetics. Pigments such as phycobiliprotein C-phycocyanin (C-PC) are also promising candidates for drug discovery, with applications in liver repair, heart disease, immune therapy, neurodegenerative diseases and antibiotics. There is a large and growing market for cyanobacterial-based pigments, projected to reach £1 billion by 2019. However, commercial culture of cyanobacteria is fraught with the problem of controlling growth and metabolism, leading to large and unpredictable fluctuations in yield. The researchers plan to address this by using synthetic biology to engineer robust strains of cyanobacteria that can produce significantly increased and sustainable yields of C-PC.
The researchers are working with Scottish Bioenergy, a Scottish SME that designs, installs and operates microalgal photobioreactor systems. Together the team will design dynamic cellular gene control circuits in new strains that can sense and respond to the surrounding environment so as to co-ordinate cellular metabolism with C-PC production. This is a game-changing approach as normally bioproduction processes rely on powerful promoters that are permanently switched on with little consideration of the impact on the cell itself.
Together Scottish Bioenergy and the researchers will be able to demonstrate proof that the concept can work in a 'real world' setting by testing the new cyanobacterial strains in industrially relevant – up to 1,000 litre – photobioreactor conditions.
The project was supported by a grant from PHYCONET is a Biotechnology and Biological Sciences Research Council Network in Industrial Biotechnology and Bioenergy (BBSRC NIBB), a UK-based network enabling biologists, engineers and industrial partners to consolidate their knowledge and expertise to unlock the IB potential of microalgae.